[SnK][Rivaeren]Together with Thug Eren!!
¡Que tal , queridos seguidores!
Bien , sabemos que últimamente los hemos tenido un poco abandonados debido a las múltiples ocupaciones que hemos tenido la mayor parte del staff. Pues para compensarles un poco la espera el día de hoy les traemos un par de doujinshis super-cute que esperemos que les encanten (´・ω・`)
Together with Thug Eren!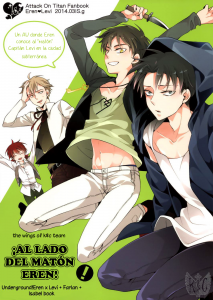 Título: Together with Thug Eren!
Alternativo: ¡Al lado del matón Eren!
Anime: Shingeki no Kyojin
Pareja: Levi x Eren
Género: Todo público
Autor:  IS.g/ Kimi Ichinashi
Scanlation: Key and Cravat
STAFF
Traducción: °°Miriam°°
Edición: Anikunaii
Limpieza: Hinata/ Katsura/ Ren
Revisión: Ren
Un AU en donde Isabel, Farlan y Levi se encuentran con Eren en la ciudad subterranea.
También les traemos una excelente noticia , como ya había anteriormente mencionado Katsura , estamos trabajando en un proyecto largo . Se trata de un manga … muy lindo y hot …. pero de eso les hablaré en la siguiente entrega (≧⌣≦)…
---